Subject Outline / Aim
---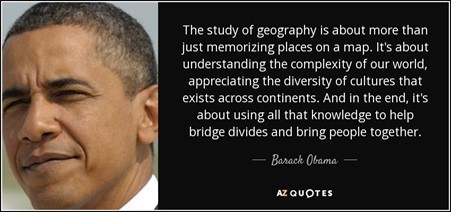 As Barack says, Geography isn't about memorising places on a map, it is about looking at the world from a physical and human perspective and being able to explain it. At a time where the world is ever changing, it is about teaching students the art of analysis and interpretation, not to mention coming up with the solutions to change the world!
In geography we look at how where you live, could determine how long you live, how many GCSE's you will receive or even how many children you might have. We learn to question the statistics and most importantly understand how we can change social mobility. Now don't get me wrong, it's not all people, migration, and demographics. We also need to understand how rivers change along its course, how will the UK manage its ever-increasing energy consumption and what we can do to minimise the global environmental impact.
So, if you choose to learn how things work, questions the status quo and be able to see how everything in the world is linked...Geography is the subject for you.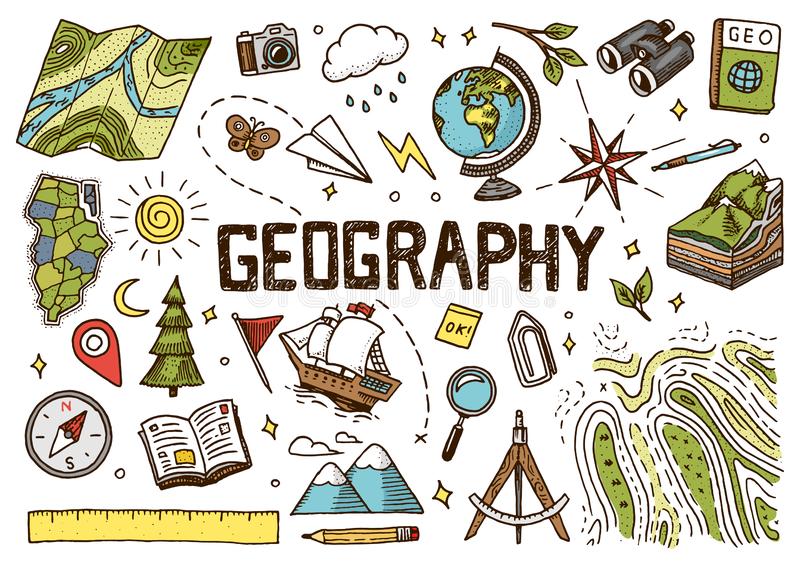 KS3
---
KS3 is all about learning the skills you need to be an amazing Geographer. Year 7 starts off looking at one of our favourite resources at our disposal…MAPS! This doesn't just look at normal A-Z maps, but OS maps as well as GIS or online maps to non-geographical humans! We learn to read, interpret and draw our own scaled drawings in various differing guises.
After the physical side of the course, we move onto Human Geography. We look at how and why settlements are formed, how they change over time and working out how we can make Mega Cities better in the future.
After looking at where we are in the world we start to delve a little deeper into what affects you. From the weather and climate around us, to the secret biomes that are found on our doorsteps. You will never look at your local area the same again!
Topics Covered
Maps Skills
Ecosystems
Population and Settlement
Weather and Climate
Energy
Natural Hazards
China (as a case study)
Rivers & Coasts
Homework
Homework in KS3 varies for each topic. It will usually take between 30-45 minutes per week. Some of the homework's are term based projects such as making your own exploding Volcano. All of the homework's are loaded onto Classcharts.co.uk so you can plan and see what has been set, as well as always written in your planner!
Learning Journey
The learning journey in KS3 is simple, it's about awe and wonder. As you start your Geographical journey we give you the skills to start to interpret what is around you and how everything is interlinked. You will find that the skills learnt in KS3 are constantly revisited under a different topic and it allows you to pick Geography for GCSE, confident you are KS4 ready!
KS4
---
Assessment Information / Exams
At Holy Family Catholic High School we choose to follow the AQA GCSE specification.
It combines 3 different papers,
Paper 1 is all about the physical Geography (90 Minutes). It includes the following topics:
Living World
Rivers & Coasts
Tectonic Hazards
Weather and Climate
Paper 2 is all about Human Geography (90 Minutes). It includes the following topics:
Changing Economic World
Urban Issues
Resource Management
Climate Change
Paper 3 (90 Minutes) is all about fieldwork and a decision based exercise. As part of the course you will undertake 2 separate days of fieldwork as a minimum. This at present includes looking at a river study (where yes you will have to get wet and climb in mountains). Alongside this we will also complete a human element, such as a Tourism flow study.
8 Weeks before your paper 3 we are sent a resource booklet that you will need to learn to be able to make a decision on the future of an area. It's a real opportunity to showcase your analytical and interpretation ideas you have learnt during the course.
Learning Journey
KS4 is the natural progression from what you studied in KS3. GCSE geography allows you to dig deeper into the synoptic links between topics to increase your hinterland knowledge of why we live the way we do and how we can shape the future. As well as the structured formal topics given to us by AQA, it allows students to really stretch their mind-set and skills on the world around them, as well as understanding the impacts of day to day life throughout the world.
Subject Support Materials / Equipment
---
Revision Guides
Websites
Workbooks
Quizzes
Extra-Curricular
---
As part of Geography we must include fieldwork! This is the point in the course where we go see the world in action. It could be the local pond ecosystem, to climbing in the Yorkshire Dales to find the source and features of the upper course of the river.
Alongside the GCSE fieldwork we plan (when not in covid restrictions) to visit the East coast to see differing geographical features and processes. As well as sampling the ice cream we will look at how the flow of town's effects tourism and what can be done to improve the quality of an area.
As for "once in a lifetime" trips we have previously ran expeditions to Snowdonia and Sicily to see real volcanoes exploding in front of our eyes. The next trip on the horizon is hopefully to the Azores!